Dodge & Jeep Oil Change Service

in Huntington, NY
Whether you drive an off-road SUV for play or use your Ram truck for work, oil is key to achieving the most out of your vehicle. The lifeblood of your car, truck, van or SUV, oil is an essential fluid that lubricates your vehicle's engine. By regularly scheduling an oil change nearby, you'll always ensure your Ram truck or Jeep SUV maintains a long life on New York roads and beyond. Not sure if you're due for one? Don't second guess and wonder, "how do I know when I'm supposed to get an oil change?" Let the team at our Dodge, Chrysler, Ram and Jeep dealership in Huntington take care of you with affordable, fast and reliable oil changes.
Our talented and certified technicians will get beneath your Wagoneer SUV or Ram 1500 pickup to ensure that all your oil service needs are satisfied. And whatever you need, we'll be there to help. From fluid top-offs to full synthetic oil changes and oil filter replacements, the team at Huntington Jeep Chrysler Dodge Ram does it all!
How Often Should I Get an Oil Change?
At least once every 5,000 miles or six months
Follow your factory-recommended schedule
Consider factors such as your commute, how you drive and road conditions
Every vehicle is different, and you also need to consider factors such as how long your commute is, how often you drive and what kind of road and weather conditions you frequently drive in. These aspects can all impact how often you should change your vehicle's oil, which is why we recommend that local drivers check their vehicle's owner's manual and follow the maintenance schedule advisories within. That being said, a solid rule of thumb is to get a regular or full synthetic oil change at least once every 5,000 miles or six months, whichever comes first.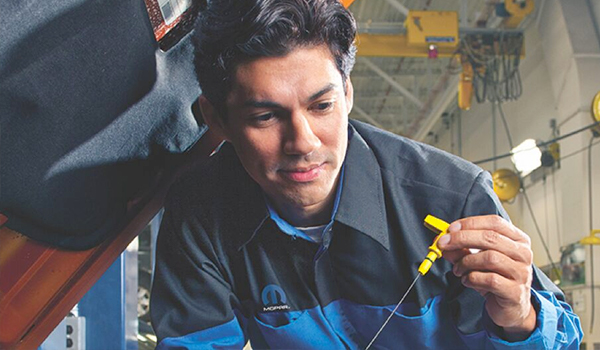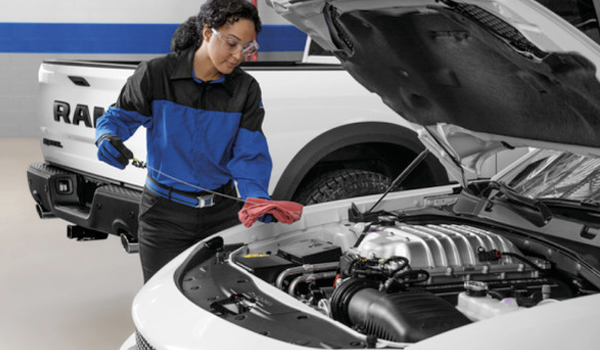 Book an Oil Change near Me
Not sure if you're due for an oil change nearby? Pop the hood and you'll be able to easily see if your oil level is low or if the engine's oil is dark in color. And if you can't find your factory-recommended Jeep oil change schedule, schedule service at our Huntington auto dealer and we'll gladly advise.