New 2020 Ram 1500 EcoDiesel Provides Superior Fuel Economy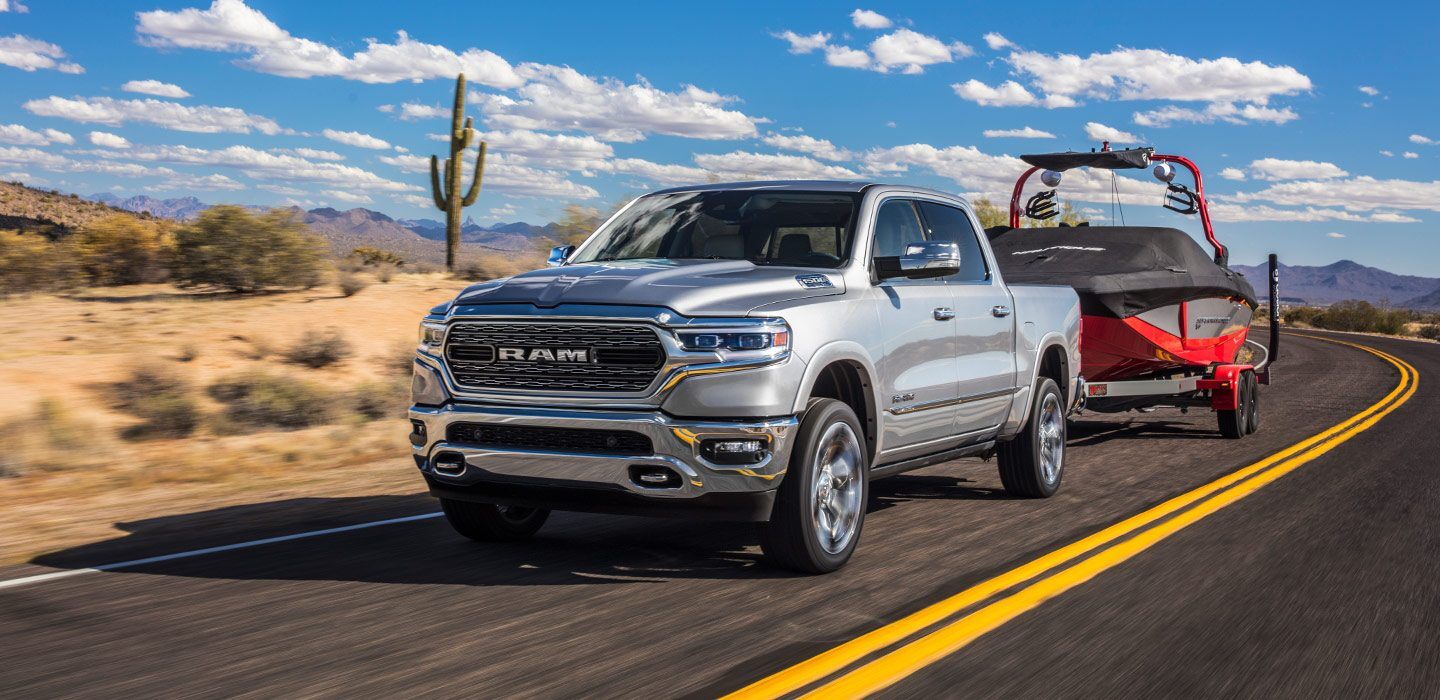 The new 2020 Ram 1500 EcoDiesel equipped with a 3.0-liter V6 EcoDiesel engine is sure to provide everything you want, including fuel economy. Furthermore, the 2020 Ram 1500 leads the segment in diesel towing capability, torque and fuel range. It's clear that this is the truck to own, whether for work or play. Visit Huntington Jeep Chrysler Dodge Ram near Smithtown, NY to browse through our 2020 Ram 1500 EcoDiesel inventory. Contact us today for more information on how to schedule a test drive.
New 2020 Ram 1500 EcoDiesel
You can get a new Ram 1500 EcoDiesel across every model and configuration. It's even available in the Ram Rebel. If you prefer, you can get the second-generation 3.0-liter EcoDiesel with a 2019 Ram 1500 Class Crew Cab as well.
The EcoDiesel engine is what creates the exceptional fuel economy and power. This turbocharged V6 delivers increased horsepower and torque while producing minimal vibration and noise. It's rated at 480 pound-feet of torque, which is the best-in-class. Look at the factors below that will help improve fuel consumption.
Includes new water-cooled turbocharger
Contains intake ports that were recently designed with fuel economy in mind
Contains a new exhaust gas recirculation system, the first dual, high- and low-pressure model with a diesel engine in North America
Compression ratio altered from 16.0:1 to 16.5:1 to produce a reduction in exhaust emissions.
Aluminum-alloy constructed pistons further improve the fuel economy, thanks to the thinner rings and coating that reduce friction
Drive a Capable, Fuel-Saving Truck
There was a time, if you wanted a vehicle that didn't use too much fuel, you had to sacrifice capability. That's not the case with the Ram 1500 EcoDiesel. You can now have the best of both worlds. Today is the day that you should test drive a 2020 Ram 1500 near Dix Hills, NY. At Huntington Jeep Chrysler Dodge Ram in Huntington, NY, we have the Ram models you want to own. Visit us today to hear about the latest Ram deals and enjoy this powerhouse for yourself. Our staff in Huntington, NY is prepared to help you find the perfect vehicle that meets your needs. Contact us today to discover what our service and parts department can do for your potential vehicle even once you leave the dealership lot. We have a variety of specials that include new and used vehicle specials as well as service and parts specials. We're the best dealership around the Hauppauge, NY area that will offer you these great deals, so come on down and visit us now.