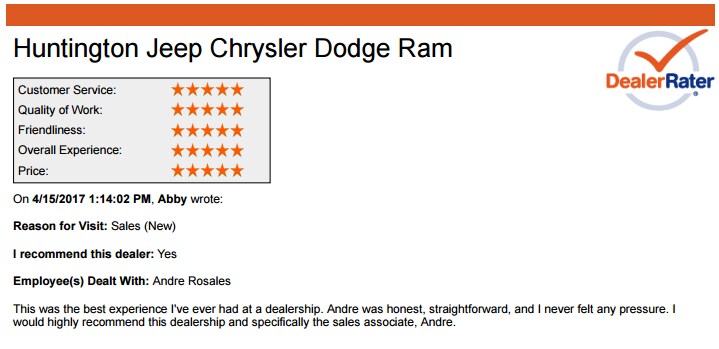 Review by Jacqueline Torres on 2/16/2017
Mr. Howard and Mr. Storck Jr.,
    I would like to thank you and your staff for your help on getting me into my new vehicle. Your two employees Bob Kravetz and Joe Holochwest went above and beyond to help me in the situation I was in. I am so grateful and very surprised with the superb service that I received at Huntington Jeep. With their help, I was able to get out of a very bad financial situation.
    I went to two places prior to going to Huntington Jeep, one of which was the dealership that had sold me my car, yet even they still refused to help me. I was fortunate enough to have met and spoken to your sales manager Bob Kravetz. Even though I had caught him on a busy Sunday, Bob made sure to make time for me even, while taking care of multiple other customers that day. He prided himself in living up to the great reputation that Huntington Jeep has in terms of truly caring and helping their customers.
    He informed me from the very beginning that if he was able to get everything approved and get me out of the horrible situation I was in, that the payment would be quite high. He gave me all the details before taking anything further and made me aware of the likelihood of me paying in the high $700s for seven years.
    The next day, I received a call from the finance director, Joe Holochwest, and he had informed me that I had been approved, and surprisingly at a much lower payment than what had been anticipated. Within two hours of receiving that phone call, I was out and driving my new car. Your staff helped to restore my faith in salespeople and I am extremely grateful that you all at Huntington Jeep have been able to help me so much. My many thanks to you and your staff for all that you've been able to do for me.
Featured Review